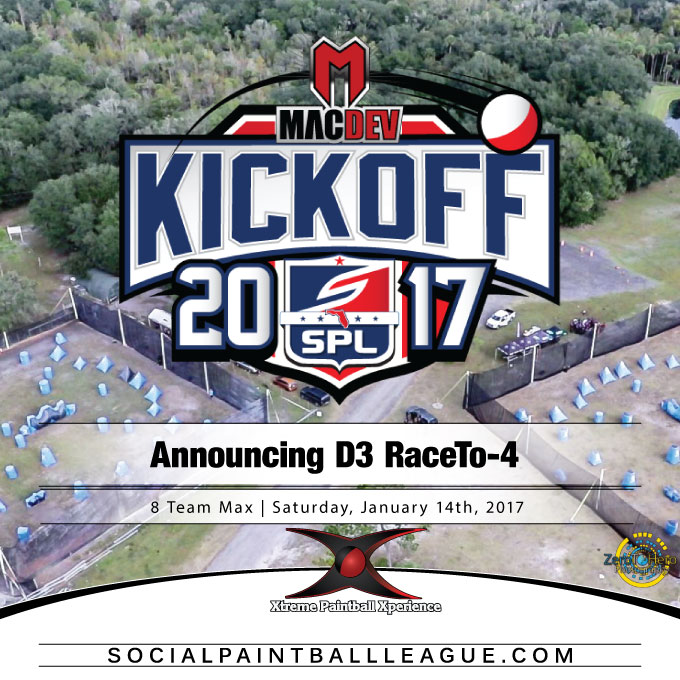 We've received multiple requests from players and teams to open up a Division 3. We will be offering the RaceTo-4 format during the 2017 season, PLEASE READ the entire post. The Registration link is at the bottom.
Event Info:
We are going to be using the APPA for RaceTo-4 registration process. We are only offering Division 3 for the RaceTo-4 format. Entry is $525.00 per team. Standard SPL paint pricing applies. Teams can pre-pay for paint online, two weeks prior to the event, to receive a discount or teams can pay full price for paint at the event.
SPL ID Cards:
All RaceTo-4 players will need an SPL ID card, they are $40.00 and will be valid for the entire season. Every player will need a 2017 SPL ID card to participate.
When Do We Play:
The event is capped at 8 total teams. We will run all of the matches on Saturdays. If less than 7 teams sign up and pay for any given event, the offering will be cancelled. In other words, if 8 teams do not sign up and pay, there will be no D3.
Important Deadlines:
If your team wants to play, sign up and pay the entry fee early so that we call ALL plan ahead. This request is not just for the SPL, the staff, refs and the field owner, it's also for your fellow players who want to plan ahead.
All RaceTo-4 teams must sign up and pay their entry two weeks prior to any given event. If less than 7 teams are signed up and paid after the two week deadline, the offering will be cancelled and all paid entry fees will be refunded.
Roster Rules:
Any number of Division 3 or lower players may appear on a Division 3 RaceTo-4 roster plus up to two Division 2 players. Or up to one Division 2 player and up to one Division 1 player with a classification rating no higher than 2952, providing the sum of the classification ratings of the top two players on the roster is no higher than 3936. There may be no more than 12 players on a RaceTo-4 roster. There may be no more than 5 staff members on a RaceTo-4 roster.
Prizes
Prize packages are being finalized and will be announced when ready.
Sign Up:
APPA Sign Up: http://paintball-players.org/cgi-bin/showteams.cgi?LID=292&EID=4958